JOHN WAITE
"Songs, and songwriting keeps me inspired, moving forward. I tend to scribble down notes, lyrics or just random thoughts on pieces of paper, backs of cigarette packs, sometimes on my shirt cuff. Rock n' roll is closest thing I've got to a spiritual power. It's been the higher voice in my life and it's never let me down." – John Waite
Countless musicians of far lesser accomplishment have probably made similar statements regarding their own personal creative process, but when the confession comes from John Waite – whose been successfully writing, recording and performing some of the most listenable, enduring and appreciated popular music for more than 35 years – one cannot help but both recognize and marvel at the shimmering legacy of this British born rock star.
The ride began when Waite was tapped as bassist and lead vocalist for the Babys who rocketed to Top 20 chart positions with a pair of infections hits, "Isn't it Time" from the band's sophomore LP, Broken Heart in 1977 and the monster ballad, "Every Time I Think of You" off 1978's Head First. But it was the album's rhythmically aggressive and seductive title track where fans got their first glimpse of the authentic John Waite, a no-holds-barred rock n' roll performer devoted heart and soul to live performance and making sure every fan in the audience left the concert hall just as elated and exhausted as the band they'd paid to see.
After John Lennon's assassination, December 9, 1980, a bizarre thing happened during one of those furious Baby's performances when John was pulled from the stage by an overzealous fan during an encore. The freak event seriously injured his knee and the group disbanded shortly thereafter. From the ashes of the Baby's, however, rose an abundant and prodigious solo career, ignited by the well-received release, Ignition, that featured the single, "Change," which rode the AOR charts for weeks in 1982, the year a new cable channel that would alter the course of popular media culture called MTV launched. At the forefront of its early play list was the video for the Holly Knight-penned track that in 1985, was included on the platinum-selling Vision Quest soundtrack.
John's next solo effort, 1984's No Brakes, did exactly what the title inferred, barreling at runaway train speed to international acclaim and U.S. platinum success thanks to the smash hit, "Missing You," which did not stop until it reached Number 1 on the Billboard's Hot 100 Singles, Album Rock Tracks and Adult Contemporary charts. The following up single, "Tears" was a top 10 hit on the Billboard Mainstream Rock charts.
Continuing to evolve as both a songwriter and formidable stage presence, Mask of Smiles was released in 1985, possessing a pair of muscular hit melodies, "Every Step of the Way," and "If Anybody Had a Heart," which appeared on the soundtrack to the 1986 motion picture, About Last Night starring Demi Moore. John's fourth solo LP, Rover's Return, highlighted by the superlative, "These Times Are Hard for Lovers." The same season that Bon Jovi was urging two lovers to live on a prayer, John delivered an aortal anthem of timeless resonance. "Baby we can make it 'cause our love will pull us through/ these times are hard for lovers its down to me and you/Nothing's gonna break us if we hang on to what's true, these times are hard for lovers, I believe I you."
"I don't have a plan and most of the songwriting is a knee jerk reaction of being alive. I try to speak from an honest place where the listener can both hear and feel where I'm coming from; the job is mine, to help them understand me. There's a real need as an artist to express who you are and where you're coming from."
A long and prodigious career often combines composition and interpretation, like in 1990 when John recorded the Martin Page and Bernie Taupin-penned track, "Deal for Life" for the Days of Thunder soundtrack. But two years prior to that cinematic adventure, superbly performing another songwriter's work led to one of the biggest hits on John Waite's illustrious resume. In 1988, a reunion with former Baby's band mates, Jonathan Cain and Ricky Phillips –along with uber-guitarist Neal Schon from Journey and drummer Deen Castronovo –resulted in the John Waite fronted supergroup, Bad English. And in 1989, the group's ballad, "When I See You Smile," – penned by Grammy-winning songwriter, Diane Warren – went to Number 1 on Billboard's Hot 100 and was certified Gold. The album reached Top Five and sold more than two million units in the U.S. alone. Bad English released two albums before breaking up in 1992.
Since returning to the recording studio and concert trek as a solo artist in 1995, John has produced a string of solid, existentially eccentric, courageously eclectic and blisteringly electric rock n' roll records, including 1995's Temple Bar, 1997's When You Were Mine, 2001's Figure in a Landscape, 2004's The Hard Way, 2006's Downtown: Journey of a Heart and 2010's In Real Time –an extraordinary live recording that featured burning in-concert realizations of the Baby's "Change", "Back on My Feet Again" and "Head First", not to mention Bad English's "Best of What I've Got" as well as a mind-blowing cover of Led Zeppelin's "Rock and Roll." It was this lifelong passion for original Country that inspired John's sensational 2006 duet with bluegrass legend, Allison Krauss, where the two combined honeysweet vocal forces to remake his international hit, "Missing You." On February 5, 2007, they performed the song on The Tonight Show with Jay Leno.
John teamed up with Matchbox 20 lead guitarist and songwriter, Kyle Cook in 2011 and their creative chemistry birthed the exhilarating Rough & Tumble, a long form exercise in raucous riffs and bloody truths highlighted by "Further the Sky," "Shadows of Love" and the Classic Radio chart topping title track, a remarkable feat for any musician to reach number one airplay after three and a half decades in the music business trenches.
All-Access Live hit the streets in 2012 and delivered on all stages of John's career–solo, The Babys and Bad English. Bearing a dynamic, stripped down sound which shows off his talented three-piece band, Waite demonstrates why he's considered one of the great rock and roll singers, imbuing the timeless material with saber toothed vitality and kinetic power.
In 2014, Waite returned with Best. Navigating raucous rock, gut bucket blues and country, Waite's new greatest hits album is a thrilling snapshot representing the inspired artistic breadth of this legendary artist's entire career tallying more than 40 years on the rock and roll highway featuring re-recorded versions of signature classics, "Back on My Feet Again," "Isn't It Time" and "Missing You," hard-hitting live renditions of "Head First," "Saturday Night" and "Change" to the more introspective fare of "Suicide Life," "Downtown" and "Bluebird Café."
With more live shows and new music in the offing, John Waite continues to forge his own singularly personal path, celebrating the present and engaged by the promise of the future. The story is far from over for the Lancaster, England-born rock star/balladeer/storyteller who was inspired onto his musical path by blues, soul and country along with a deep connection to the Celtic folk music of his homeland.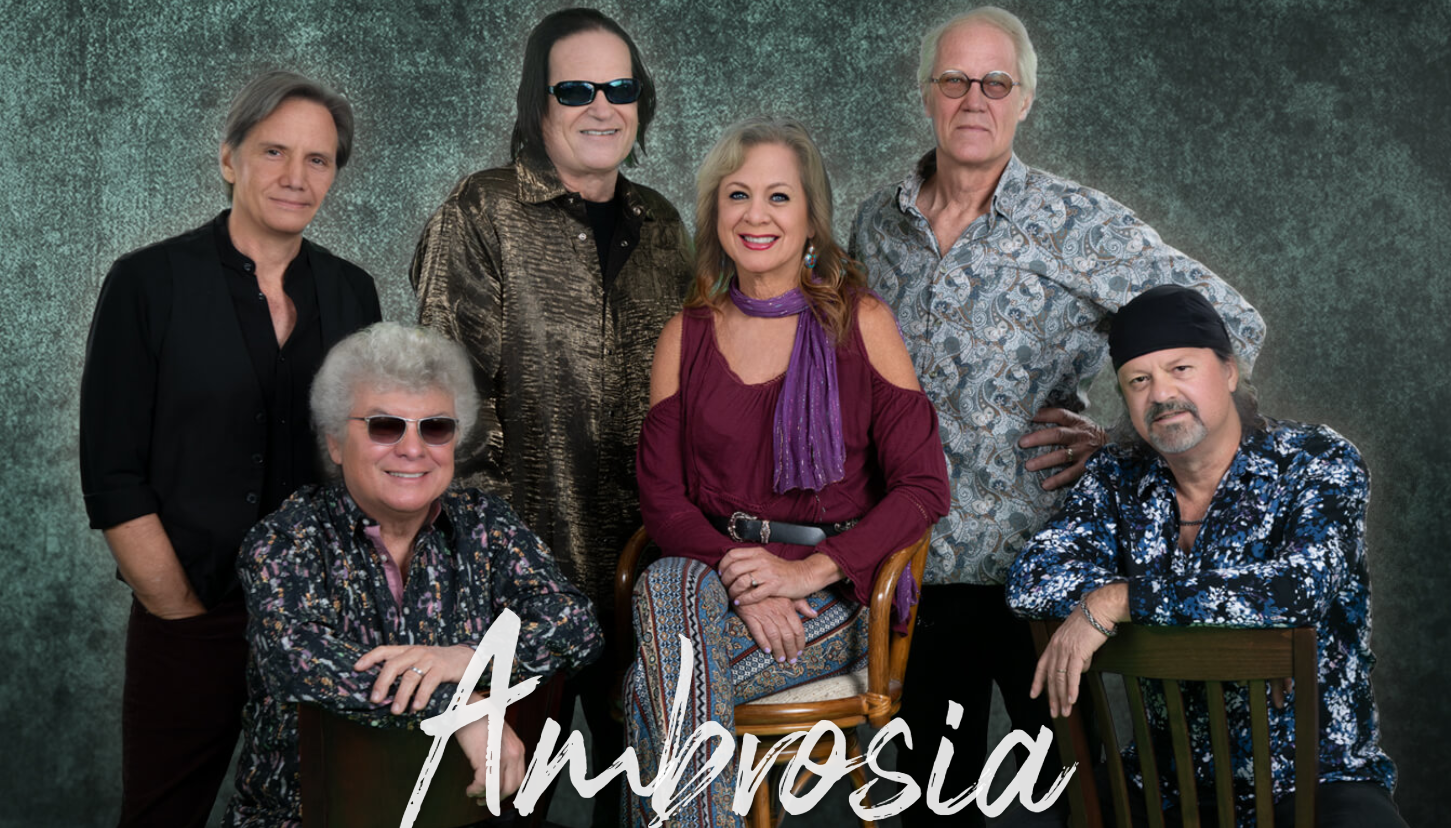 AMBROSIA
Ambrosia, the band known and loved by a multitude of fans since the 1970's, is now more alive and compelling than ever. This 5-time Grammy Nominated ensemble is exploring new musical territory and bringing an exceptional musical performance to stages everywhere.
In 1970, four young musicians from the South Bay of Los Angeles, came together to create a new moving and invigorating style of music. Joseph Puerta, Christopher North, David Pack, and Burleigh Drummond produced a sound that was immediately recognized. Today, Ambrosia is three of the original members with the addition of guitarist Doug Jackson, contributing keyboardist Mary Harris, and powerful lead vocals of Kipp Lennon (from the band Venice). Always exploring the possibilities of progressive, classical, and world influences – with tangled roots of soul, rhythm, and blues – Ambrosia is continuing to entertain their original fans while still engaging newer audiences.
Originally labeled as America's answer to the progressive invasion of English acts Yes and King Crimson, the group quickly proved itself with a unique blend of aural landscapes. Their musical styles attracted the collaboration with cultural icons Leonard Bernstein, Kurt Vonnegut Jr., Alan Parsons, Bruce Hornsby, Michael McDonald, Edgar Winter, Dave Mason, Gary Wright, Al Stewart, and others. Ambrosia had toured extensively with Fleetwood Mac, Heart, and the Doobie Brothers.
During Ambrosia's early recording history they garnered 5 Grammy Nominations, received frequent radio airplay, and gained the admiration and respect of the musical community – in addition to th ir sold out concerts around the world. Ambrosia achieved 5 Top 40 hit singles on Warner Bros. Records, released between 1975 and 1980, including "How Much I Feel" and "Biggest Part of Me". In 2015 the group released a new single, "Hopes and Dreams", which was featured on the series called The Sparrows that aired on the Fox television channel. As of 2017, the new Ambrosia material keeps coming.
Bringing a breathtaking performance of their classic hits as well as new moving music, Ambrosia puts on a perfect show.
PLEASE NOTE THIS CONCERT IS AT THE LYNN SHERWOOD WATERFRONT STADIUM IN GRAND HAVEN!
A LIMITED NUMBER OF VIP TICKETS ARE AVAILABLE AT $130 AND PROVIDE ENHANCED PARKING, SEATING AND ENTRY. CALL 616.930.4755 FOR MORE INFO.